Dale Collins is the owner of Prosperity Planning and is one of our generous monthly donors. She has donated to Children's Health Foundation every month for two years. In alignment with GivingTuesday and in an effort to rally the community behind our fundraising efforts, Dale has generously offered to donate a $10,000 matching gift. That means that for every new individual who signs up as a monthly donor before the end of 2018, Dale will honour that with a $100 gift per new monthly donor (up to a total of $10,000).
Help us reach 100 new monthly donors before the end of the year and help us continue to support Island kids and youth living with physical and mental health challenges access the essential health care they need.
Read Dale's story to learn why she decided to become a monthly donor and why she continues to help us help Island kids.
Why I donate: Dale Collins explains why she gives monthly
Please note: This story contains content that may not be suitable for all audiences, including people who have experienced traumatic events from mental health challenges or for younger audiences.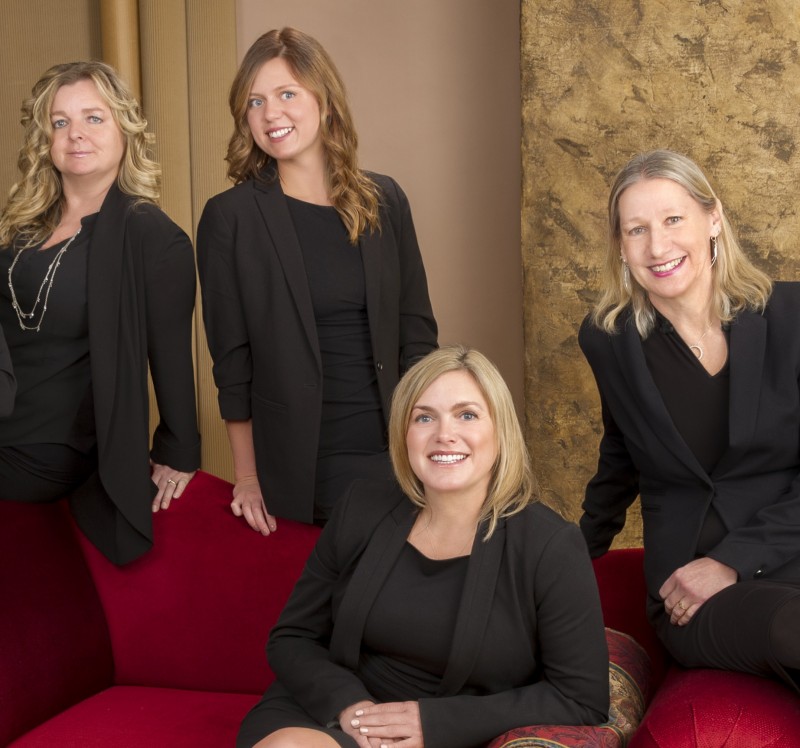 Above: Dale Collins (centre) with her team at Prosperity Planning.
Raised by a single mother in a small New Brunswick town, Dale Collins attributes her philanthropic nature to her upbringing. Looking back today, she realizes that her family didn't have it easy when she was young, yet she knows the community was kind and supportive, helping them all get by.
So, years after leaving New Brunswick and deciding on a career, Dale knew she wanted to be in a line of work where she could give back every day. She became a financial planner and opened her own business, Prosperity Planning, in 2005 so she could support members of her community.
"I've always had an interest in trying to help people," says Dale. "I think as a financial planner I'm helping people retire, or get their first home, or making sure they have enough insurance." Dale also encourages giving back at the corporate level: as Prosperity Planning's owner, she encourages her staff to volunteer, donate, and give back to the charities of their choosing.
Dale lives out her philanthropic values. Personally and professionally, she gives back to various causes including Children's Health Foundation of Vancouver Island.
But in 2017, something tragic happened that gave Dale a very personal reason to give back to the Foundation. That May, a young person Dale was very close to took her own life after quietly struggling with depression.
For Dale, a mother of two young women, this really hit home. At the same time, she began to hear stories from her clients who shared how they were also touched by mental health challenges. Dale realized how much still had to be done here on the Island to help young people with mental health challenges, so it didn't take long for her to decide to support Foundry Victoria, which the Foundation invests in.
Dale recognizes that when it comes to supporting the health of Island kids and increasing accessibility of health care to all, the work is never done. So instead of a one-time donation, Dale became a monthly donor to Children's Health Foundation, knowing that the continuous support can help make a real difference.
"If we're lucky enough not to have to have needed those services [supported by Children's Health Foundation], we can still be there to support people who do need them," says Dale.
This GivingTuesday, Dale is partnering with us to generously offer a matching gift. For every new individual who signs up as a monthly donor, Dale will honour that with a $100 gift up to $10,000. In doing this, she hopes to encourage more people to give back and make a difference in the lives of Island kids and youth.
"My hope is that people become aware of the Foundry Victoria – and of all the good work Children's Health Foundation does – and that they'll want to give back too.
"When you leave this earth, does it matter what things you had or that you drove a fancy car? No – it matters what you did and how you made people feel."
Sign up as a monthly donor and help us reach our goal of 100 new monthly donors. Your ongoing support will help Island kids, youth, and families living with mental and physical health challenges.